27 Jan

Date & Cinnamon Roll Cake
Date & Cinnamon Roll Cake
This is the best date cake ever. Everyone who tastes it always ask for the recipe. Dust with additional confectioners' sugar, if desired.
---
Prep time: 30 minutes
Bake time: 15 minutes
Assembly time: 10 minutes
Total time: 55 minutes
Yield: 6 servings
---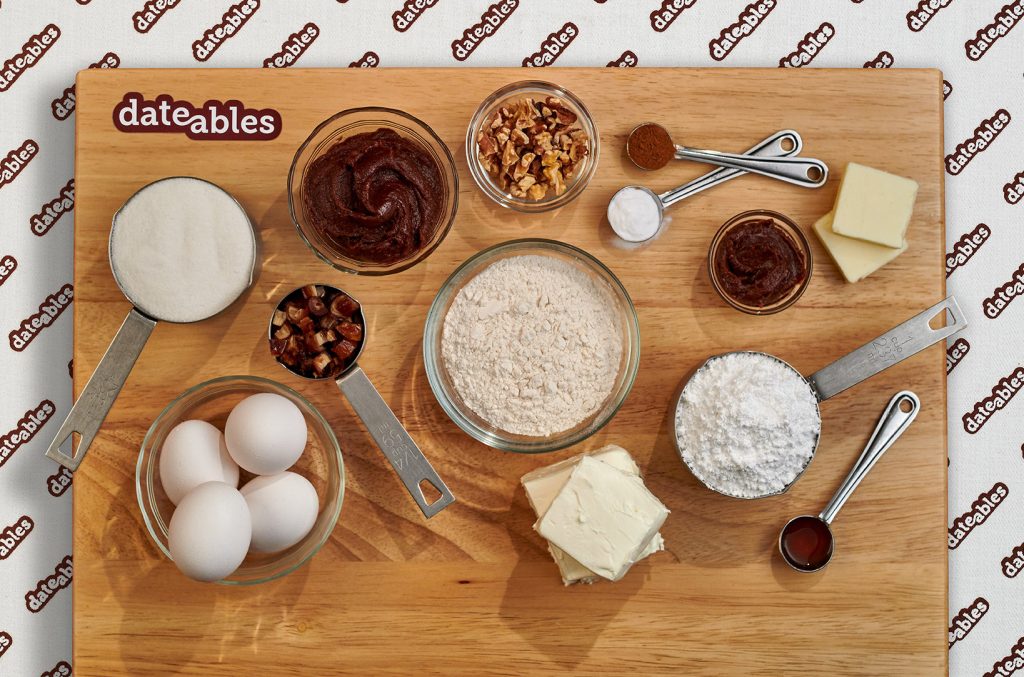 ---
---
Ingredients
For the cake roll
4 large eggs
1 cup granulated sugar
2/3 cup Dateables Date & Cinnamon Spread
3/4 cup all-purpose flour
1/2 teaspoon ground cinnamon
1 teaspoon baking soda
1/4 cup chopped dates
1/4 cup chopped walnuts, roasted
confectioners' sugar for dusting
For the filling
1 cup confectioners' sugar
3/4 teaspoon pure vanilla extract
2 tablespoons unsalted butter, softened
2 tablespoons Dateables Date & Cinnamon Spread
8 ounces cream cheese
---
Directions
To make the cake roll
Preheat oven to 375°F.
Grease a 15 x 10 x 1-inch baking pan (jell roll pan) and line with parchment paper. Grease and flour the parchment paper.
In a large bowl, beat eggs on high for five minutes. Gradually add granulated sugar and Dateables Date & Cinnamon Spread. Add the flour, cinnamon and baking soda and mix.
Spread batter evenly in pan. Sprinkle dates and walnuts evenly on top.
Bake at 375° for 15 minutes or until cake springs back when lightly touched.
Immediately turn out onto a linen towel dusted with confectioner's sugar. Peel off paper, dust with additional confectioners' sugar and roll cake up in the towel, starting with the short end. Cool.
To make the filling
Mix the confectioner's sugar, vanilla, butter, Dateables Date & Cinnamon Spread and cream cheese together until smooth.
Carefully unroll the cake.
Spread filling over cake to within 1 inch of edges.
Roll up again.
Cover and chill until serving.
Cut off the ragged edges and dust with additional confectioners' sugar before serving.
Cut to serve.
---
©Copyright Fate Foods LLC. All Rights Reserved.